How much do you think about your internet browser? Not much, right? If it gets you to your target web destination, that's all that matters. For most, it's a choice between Chrome or Firefox, with Edge and Safari coming not far behind.
While most internet users opt for Chrome, many people don't realize that many of the other leading browsers in the world are not so different from it. They use the Chromium source code.
While Chrome and Chromium are separate projects, one is Google's proprietary web tool, and the other is open source. But there are a lot of similarities between the two.
Chromium based browsers are installed on more than 77% of all desktop computers on the market .  It's easy to work with, has tons of extensions and API kits, and more. You can even swap out Chrome and use Chromium directly instead as your browser.
NetMarketShare figures reveal that, last month, Google Chrome was running on no less than 69.18% of all existing PCs . The second place was the new Microsoft Edge , also based on Chromium, which guaranteed the second place with 7.76% of market share.
Read: How to reduce Google Chrome's CPU usage
The

Mozilla Firefox

  is third with 

7.25%

 market share.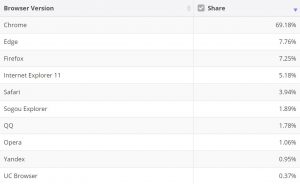 Image: Reproduction | Softpedia
While Chrome and Edge continue to improve their market share, these figures show that Chromium-based browsers are the preferred choice for an impressive number of PC users (no matter if they use Windows, Linux or macOS ).
Here are five Chromium browsers you should check out now.
1. Chrome
Chrome is the king of Chromium browsers. It's number one for a reason. Chrome is easy-to-use, has tons of extensions, and syncs well with Google accounts.
Pros: Loads quickly, can switch between tabs, incognito mode.
Cons: Can consume tons of memory and slow your computer down, does have several privacy issues.
Read: Top Chrome extensions to improve productivity
Best for everyday internet browsing and those who want most add-ons and website compatibility.
2. Epic Privacy Browser
Chrome doesn't have the best reputation for privacy. It tracks almost everything you do. And if you do use the privacy features that they offer, you might sacrifice functionality. It's gotten so bad that Google is facing a lawsuit over violating incognito mode.
Epic Privacy Browser is the solution to all these issues. It's like always browsing in incognito mode (but for real, unlike on Chrome). It has anti-tracking, doesn't track searches, and wipes your data after each session.
Pros: High level of protection, similar functionality as Chrome.
Con: Can't add third-party apps and utilities. Since it doesn't save history, you have to keep all hyperlinks and other content you want in other places.
Read: Types Of Browsers Available Based On Your Online Habits
Best for people looking for the highest levels of privacy and security.
Editor's note: Don't take the "highest levels of privacy" for granted. While it's more private than other Chromium-based browsers, you still need to take steps to protect your privacy or IP address.
Third-parties can use your IP address against you in a variety of ways. It puts both your privacy and security at risk. For that reason, before you open any web browser, be sure to enable a VPN.
VPNs (virtual private networks) both hide your IP address and encrypt your connection. As long as you don't log in anywhere, it gives you better privacy than any browser out there. Except maybe Tor, but that's a different story entirely.
Check out this rather interesting VPN free trial.
3. Edge
To many people's surprise, Edge converted to Chromium a few months back. The new Edge browser may finally be the browser that erases the memory of Internet Explorer and all its problems.
So far, people love Edge. It's speedy, has built-in privacy protection, includes anti-tracking features, and even supports 4K Netflix and Dolby Sound. It also contains the Collections tool, which makes it easy to save content for later.
In this Chrome vs. Firefox world, it's worth it for everybody to give Edge another look.
Pros: Good, compatible with Chrome extensions, Windows 10 integration.
Cons: Not the most exciting browser and takes some effort to change the default search engine from Bing.
Best for people looking for a change from Chrome who don't want anything too different.
4. Opera
Opera was the first major browser to convert to Chromium back in 2013. And Opera is always adding cool new features. They were the first to have a built-in ad-block, VPN, and cryptocurrency wallet.
Read: How to Install OpenVPN on Ubuntu 16.04 And 18.04
Like the other browsers on the list, you get a lot of crossover with Chrome, so you don't lose much by changing over.
Pros: always adding new features, turbo mode to improve speed on slow connections, customizable.
Cons: isn't very secure, some sites don't function with this browser.
Best for people, especially techies and gamers, looking for an innovative alternative to Chrome.
5. Brave
For a long time, Epic Browser was the only real privacy-centric browser option out there. And then, a few years ago, a former Mozilla CEO created Brave.
Read: How to Install Google Chrome on Ubuntu 22.04
Brave takes privacy to the next level. It's built with a pop-up blocker, uses HTTPs secure connections whenever possible, and blocks all trackers. It's also super-fast and lightweight, meaning it doesn't consume much RAM.
Pros: very secure, much faster than Chrome on desktop and mobile.
Cons: fewer extensions, add-ons, and plugins; has compatibility issues with some sites.
Best for those who want privacy and speed but don't mind occasional usability or another issue since it's still relatively new.
This list is only the beginning of excellent Chromium-based browsers. There are even more great options out there. Take a break from Chrome or Firefox and try one of these great options instead. There's a good chance you'll never go back!
---
If you like the content, we would appreciate your support by buying us a coffee. Thank you so much for your visit and support.