In the wake of the pandemic, it has been seen that the email platform and email sending volume have increased tremendously. With the advantages that email marketing drives in customer acquisition and retention, it has been seen that it has played a crucial element in the overall marketing strategy.
To accommodate consumers' constantly changing needs and to drive online and in-store traffic, it is essential to leverage mobile email marketing in 2021. Because mobile creates a personalized omnichannel experience and makes this channel successful, it doesn't stop in just segmentation or personalization—there's a lot more to it.
But how do you leverage email and mobile marketing?
To make these channels work jointly and increase redemptions with a multi-channel approach, you need to keep an eye on the trends and make some integrations to thrive in 2021. Below, we list some best approaches to adapt for mobile email marketing and efficiently leverage your subsequent email campaigns.
Make emails more interactive.
For mobile email marketing, engage your subscribers with more interactive emails. Suit the preferences of your customers tailor-made for their user journey. You can implement clickable CTA buttons, carousels or polls, and surveys to invite your customers for more participation and make this process less tedious. By giving them options to choose their journey, you can involve them in every engagement of your business.
Read: Cold emails : How to Properly Validate Your Emails
Consider implementing AI to optimize email strategy.
To make your mobile emails worthy of your customer's time, strategize it with enabling AI in your email marketing efforts. Analyzing your consumer's behavior and knowing what can grab their attention can help you shoot your emails appropriately. Knowing what your customers need, their overall purchase habits and interests can help you create a suitable angle for your emails' subject line. Thus, enabling improvement in the open rate and even sales conversions.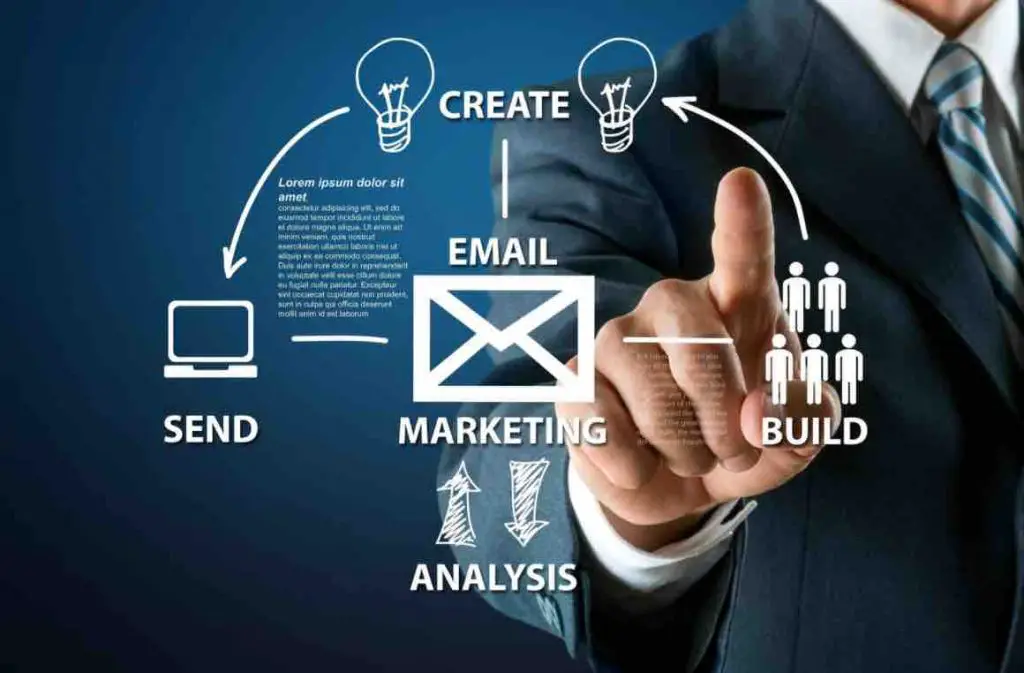 Image source: wolfmodemarketing
Incorporate user-generated content into emails
To promote products and services on social media networks, generating user-generated content into your emails is essential. This practice can help you make an impact on your customer's purchase decisions and, in turn, influence their reviews. So, adopt customer feedback to increase your consumer's trust in your product and brand and gather some user reviews with photos or poll results that can garner a lot of effect on your brand value publicly.
Read: What to Think About When Choosing an Email App for Windows
Be privacy-friendly
Email marketing services that are active in lending exceptional services to all industries focus on the critical factor of privacy-friendly content. They are more responsible towards customer data and lend data privacy to all businesses. By adopting this practice in your mobile email marketing, you can increase your customers' trust in your company and successfully lead your campaign. Similarly, if you make your mobile email campaigns comply with that, then it can prove to be a USP for your business protocols.
AI Integration in Marketing Practices
Even adopting artificial intelligence technology in your email marketing strategies, you can earn some excellent benefits along the way. While some marketers are skeptical about integrating such practices and find it more complex, these efforts can give you the correct information to serve your customers. So, in 2021 it is best to integrate AI into your mobile email marketing and use it to manage the tasks effectively and conveniently.
Read: Artificial Intelligence in Marketing
Opt for Hyper-Personalization
With the reigning generation of artificial integration, it is vital to achieving your email marketing objectives with the right set of hyper-personalization. This factor can have an overall effect and increase your brand awareness. Moreover, with each passing day, you might feel that more and more users are subscribing to your mobile email newsletters and are engaging with your brand more effectively. So, place an essential focus on personalization by systematically gathering more data from your customers and categorizing your marketing emails.
Read: 5 Best Programming Languages for Test Automation in 2021
Incorporate Automation
Leveraging mobile with email marketing can prove beneficial if you try to implement automation in your processes. With the ongoing change in this pandemic, marketers must provide trigger-based emails. Using the email automation software, create mobile email campaigns and send personalized emails to customers at their appropriate delivery times.
Use compelling offers to build email lists.
To build an enormous email list, try to provide compelling offers to your users with a robust and effective subject line. Try to make it more concise and clear and build a robust and healthy email list. This action will quickly help you to build your brand reputation and, in turn, give you a strong lead among your competitors. Above that, you can even lure your audience with gift vouchers or entice them by gamifying the process of acquiring emails that will help to build a strong mailing list for your mobile email marketing.
To sum up
Email campaigns can represent an active form of marketing. They have shaped the business and given a transparent scenario of what customers expect from your brand. So, prevailing with the market trends, it is vital to leverage your email marketing campaign with mobile and achieve your desired goals. And with the above tips and tricks, try to embrace mobile email marketing and stay on top of your game to succeed in your marketing campaigns.
---
If you like the content, we would appreciate your support by buying us a coffee. Thank you so much for your visit and support.