In 2021 alone, the B2B online sales in the United States are projected to reach a whopping $ 1.2 trillion. As a savvy B2B player, you probably wonder how to tap into this lucrative opportunity by leveraging an open source B2B eCommerce platform.The good news is that it's not, as they say, rocket science. However, it's also no walk in the park; thus, learning the basics is non-negotiable. This insightful article will walk you through the entire process so that you get it right the first time.
What is an open-source B2B eCommerce platform?
For starters, you must know what an open-source B2B eCommerce platform is, why you need it and what makes it different from the others out there.
An open-source software (OSS) refers to software distributed together with its source code, allowing publishers and users to explore, modify, and enhance it according to their use cases. Unlike closed source code, with open source, programmers have the flexibility to change or modify the code to create their ideal B2B platform.
Wait, but what's a "source code" anyways?
"Source code" is the part of the software that pulls the strings behind the scenes; it's the important code programmers can alter to change how a software (program/application) works. They can add to it, change it, or fix bugs themselves without the need to consult the software provider.
What's in it for you?
Flexibility and ease of customization
With an open-source code, you can easily bring your ideal B2B eCommerce platform to life without limitations. You have the flexibility to modify the source code however you see fit for your use case. In other words, the only limit to what you can achieve is your own time, skills, or resources.
Even better, considering everything is open source, you can even share your modified version of the eCommerce platform and share it with other users for free or premium cost.
As many eCommerce SEO experts agree, it's not yet a set science, but you can use our tips for a proven outline of successful headline writing. But for a start, try to keep these 3 things in mind:
Security
While it's debatable, open-source software is often more secure and stable than its closed counterpart. With the former, multiple developers can view and modify the source code, spot and correct errors or omissions that the initial OSS' authors could have missed. This is contrary to closed software that doesn't allow external developers to make any modifications to the code; they can only report the bug and wait for the vendor to fix it.
Agility
The fact that anyone can contribute with their own totally new features, improvements, or bug fixes makes an open-source code more agile. New features and updates are implemented and added to the B2B eCommerce platform at a more rapid pace, and the collaborative community encourages the users to help constantly improve the software. And with each improvement, one user makes, every other user of the software benefits.
Read: A Brief Overview of Software Development Methodologies
Cost-efficiency
Contrary to popular belief, open-source software is not always free; however, it's still a very cost-effective option in most cases. At least, it's much cheaper than the cost of building your own B2B e-commerce platform from scratch. Furthermore, the prices for maintenance or further development are much lower with open source. Since it is accessible to anyone, you have a wide variety of options for people who can help you. This translates into lower prices for fixes and also saves you time.
Factors to consider when choosing an open-source B2B eCommerce platform
Considering there are tens if not hundreds of open-source B2B eCommerce platforms on the market today, finding the ideal one for your business can be a challenge. Below we are going to explore a few key elements you should look into before paying for an open-source B2B eCommerce platform:
Support (both from the vendor and community-wise)
All successful open-source software has thriving communities of developers and notably strong vendor support. Be sure that your OSS has the best and most responsive forum and supports the community's mailing lists and in-house commercials before deciding. This ensures you have a better chance of quickly finding help for any problems you might encounter using the system.
Documentation
OSS usually does not contain detailed documentation for the end-user; however, it's important that it has detailed information about the development process, including the history of bugs and their foxes, version updates, new features, and extensions, among many others. Do your due diligence and read the OSS documentation thoroughly before making the final decision.
Read: Top Guide to Increase your E-commerce Store's Security
Compatibility
This one is non-negotiable, especially in B2B eCommerce. From the start, check if your OSS is compatible with other software needed for your business to function smoothly eg. ERPs, CRMs, and PIMs, among many others. A modern, robust set of APIs is a must for a reliable platform and smooth integration will pay off in the long run.
As your business expands, you will certainly need your software to interact and work with other external solutions. If your OSS has good compatibility and interoperability capabilities, there won't be a need to pay extra money in hiring a programmer to extensively work on integration each time you connect another software.
Read: How To Manage Open-Source Software
Marketing capabilities
What gain is it if you launch the best eCommerce website and it's not discoverable on the internet? Do your due diligence to check if your OSS supports marketing tools and has good search engine optimization capabilities. SEO features play vital roles in making sure your products or services are discoverable on google. Your platform should have the ability to segment audiences and reach the target audience.
Analytics
Carefully monitoring the behavior interactions on your B2B platform has an endless list of benefits. Therefore, it's vital that your OSS has inbuilt analytics capabilities or integrates well with third-party analytics applications.
Top 6 open-source B2B eCommerce platforms that never disappoint
We have simplified the search for you to save you the time and effort of sifting through tens of open-source B2B eCommerce platforms to find the right one. Below are six high-performing and reliable B2B eCommerce platforms to get started. Dive in!
OroCommerce
As a savvy B2B specialist, you have probably heard of Magento. Well, OroCommerce was built by the same team that founded and grew Magento. Being a new player on the market, OroCommerce is not as popular as Magento yet but has been gaining momentum lately. In 2020, Orocommerce was named a major player in IDC MarketScape for B2B Digital Platforms.
Okay, let's get to the brass tacks. OroCommerce is an enterprise-grade, open-source B2B eCommerce platform popularly used by manufacturers, distributors, and wholesalers in B2B, B2C, B2B2C, multi-channel, and marketplace selling scenarios. The upside to using OroCommerce is that it offers a plethora of B2B features out of the box as well as customization features that fit unique business needs.
Read: A Beginner's Guide To Securing A Big-Commerce Online Store
With OroCommerce, you get an open-source architecture along with a marketplace of integrations and plugins. In addition, you also get APIs that support integrations of various complexity. In other words, OroCommerce is much leaner compared to similar platforms, and whether it's hybrid environments, on-premise, public or private cloud — OroCommerce will still deploy per your requirements.
Some of the cool features of Orocommerce include: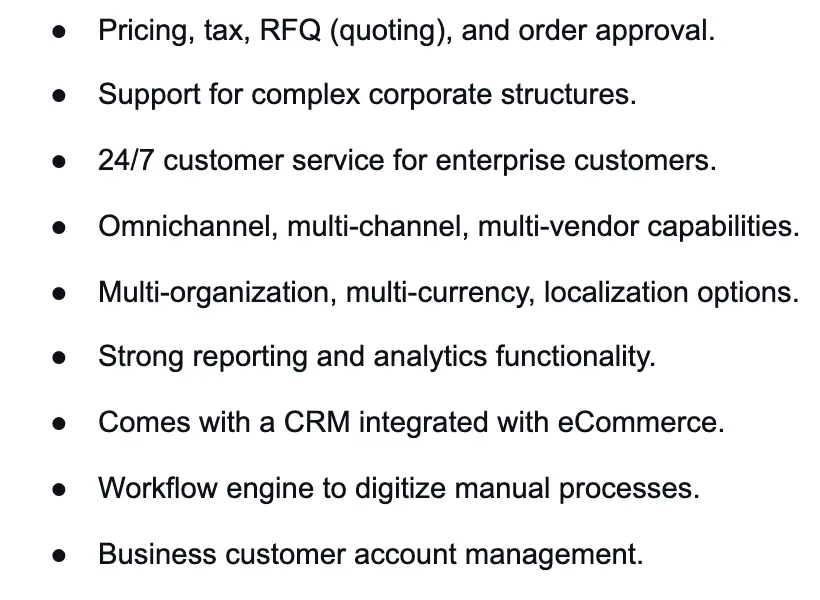 Woocommerce
Woocommerce is a WordPress plugin and is popular among B2B businesses. The platform has control of over 38% of retailers online with over 15 million downloads. The main reason for developing this plugin was to assist users in transforming their WordPress websites into functional eCommerce stores that support both business-to-business and business-to-consumer models.
Many entrepreneurs choose WooCommerce because it is simple to use and has impeccable functionality. This tool allows you to sell an extensive array of services/products.
Take a look at some of the features of Woocommerce:
Offers diverse checkout options

Topnotch

SEO

optimization

Extensive plugins

A flexible open-source customization

Optimizes for wholesale purposes

Several integration opportunities

High security

Newbies get to enjoy the friendly features
Read: 5 Compelling Reasons Small Businesses Should Invest in SEO
Magento 2
Magento 2 is a community edition and ranks as one of the most famous B2B eCommerce open platforms, with over 300k users worldwide.
This tool lets you scale up your website alongside your business developments: from a small vendor to a large-scale corporation.
In addition, Magento 2 has a maximum integration capability that makes it easy to extend its functionality via third-party system software like CRM, PIM, or ERP. This means that you can add any missing features easily.
Magento 2 is the best choice for mid-sized and small businesses, thanks to its extensive customization options and easy setup.
Here are the features of Magento 2:
Has a dependent cloud edition

An integration that is easily backend

Wholesale optimization

It offers detailed analytics and reports

User has the freedom in customizing prices

Its order tracking is effective

It also provides excellent management of product information.

An extensive B2B functionality
Read: Why switch to Magento 2
X-cart
X-cart is another open-source PHP solution that offers customers lifetime licenses. It is the perfect option for businesses that do not want to waste resources on annual dues.
With its advanced features, your B2B sales have higher chances of converting in a short span.
Its extensive use of HTML and manual coding with excellent optimization suits businesses that contain in-house developers.
Drupal eCommerce
The upside to Drupal is that it can easily integrate with various third-party apps. It's popular among small to medium businesses; however, it is also suitable for large-scale companies with complex content marketing strategies and web developers.
Features of Drupal include:
It comes with a configurable default theme that you can change.

It has 40 modules that allow you to add extensions to your website.

Allows automation when creating page aliases

Its integration functionality comprises Google Analytics, protection from bots, and many more.
Read: Website development: What Platforms Are Created on Drupal?
Opencart
Did you know that about 580k users and 900 open cart websites rank in the top million Alexa algorithms? Opencart has a friendly user interface and is vibrant even to newbies. Besides, it contains a multilingual and multi-currency option with more than 20 modes of payment and eight delivery choices.
Take a look at Opencart's impressive features:
Effective free support system

A variety of themes and plugins

An efficient stock management team

SEO optimization

Subdomains are easy to develop

Easily tracks transactions

Wholesale market browsing

Proper management of wholesale businesses
Read: How to Migrate from WiX to Shopify: Website Transferring Tips [2022]
Over to you
Over the past few years, open-source B2B eCommerce platforms have been gaining momentum due to their user-friendliness and the fact that their source code can always be modified to suit each business's needs. They are more convenient and cost-effective in contrast to starting to build a B2B eCommerce platform right from scratch.
Now that you are equipped with the right information and the best recommendations, it's time to take action and make your vision a reality. All the best!
---
If you like the content, we would appreciate your support by buying us a coffee. Thank you so much for your visit and support.