Most call service providers now provide packages that also include local phone calls, with free calling plans, bundles, and unlimited minutes. Nevertheless, this is often not the case when making international calls, i.e., when attempting to communicate with persons living overseas.
Nowadays, a variety of telecom carriers offer free international calling to nearly every country on earth, allowing you to keep in contact with your friends and clients.
Numerous calling platforms have evolved and will continue to exist as a result of recent technological advances. You may now interact with others on a global scale while paying minimal to no fees.
But with so many international calling apps accessible, how does one assess which ones are the best, what advantages and features they provide in comparison to their competitors, etc.?
To assist you in making the appropriate choice when deciding on an international calling app, the following is a list of the top programs used to easily connect to anyone in a foreign country.
Can computers be used to make international calls?
Numerous international calling software enables you to make free international calls from your computer. Everyone on the call must have accessibility to an internet-based application. Additionally, one may connect using a smartphone and the receiver can join via a computer, and free calls are still available.
Is a specific phone needed to make international calls?
No, dialing internationally does not need a certain phone model. Your current smartphone ought to be capable of making and receiving international calls for free. The main prerequisite is a suitable operating system capable of installing and launching the program appropriately. Furthermore, if you are connecting a business phone and want additional functionality, Voice over Internet Phone (VOIP) is required.
Will you be able to make free calls To other phone numbers?
No. There seem to be particular international calling apps that provide free connections to international numbers. Some apps provide a limited amount of free trial minutes; beyond this time, you must pay to activate the calling service. App-to-app calls are often free. You just need a dependable internet connection.
Yolla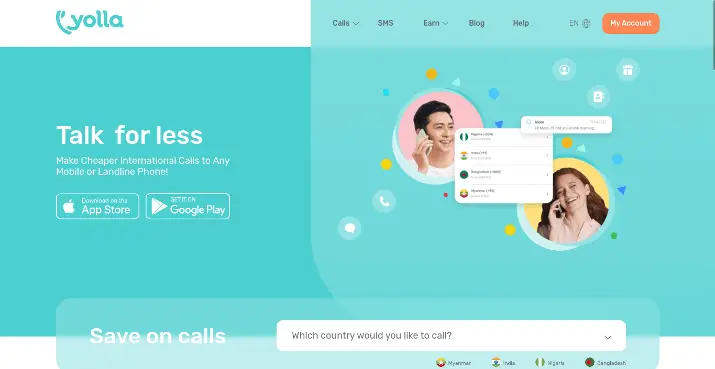 Yolla is an application that enables users to make low-cost international phone calls and enables them to keep in contact with friends, coworkers, family members, and anybody else living overseas. Yolla facilitates mobile and landline conversations while reducing roaming costs, and it offers low-cost, high-quality international calls.
Additionally, users may activate other features such as:
Mobile top-ups

Texting across borders (SMS)

There are no hidden fees or subscription costs
With Yolla, users may make free audio and video calls as well as transfer international airtime to anybody. The recipient does not need a smartphone, internet access, or the Yolla app. Users are free to contact their loved ones anytime they like, with no extra obligations. Additionally, users may buy and send Yolla credits to their loved ones.
Enjoy free calls while communicating with other Yolla members and connect with your private contact list. With automatic Yolla top-ups, customers never run out of credit and will never have to consider twice before making an overseas call.
Rebtel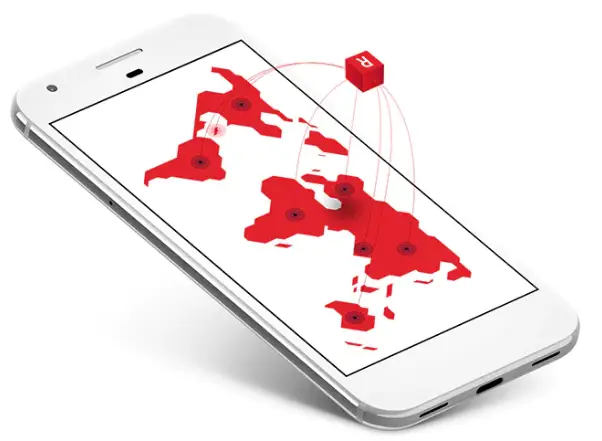 Rebtel App is an international calling application that enables you to:
Make and receive calls to landline and mobile phones for business

Allows you to communicate with individuals in over 50+ countries

No cellular data is required to make calls, however internet access is required to log into the app.

Utilizes your local number for calls
To utilize Rebtel's calling services, customers from the 53 countries mentioned must have a steady Wi-Fi connection or cellular data. It guarantees that you enjoy an amazing customer experience with its mobile routing technologies and local landline.
It is a trustworthy app for international calls that costs you based on your local number prices and not cross-country fees. As well as its US-based users, the app allows free domestic calling to anybody else in the US..
Skype

Skype is a sophisticated international calling application that can be used for both personal and business calls. This worldwide call software may also be used to organize meetings and conferences. Skype's ability to capture video and audio is one of its unique selling advantages.
The application is most recognized for its phone conversations and video chats through tablets, laptops, and mobile devices. In addition, it is compatible with all Apple, Windows, and Android smartphones. However, Skype imposes some restrictions on calls that are free of charge.
Through Skype, you can:
Verify the presence of your contacts on the platform.

Add individuals to your phonebook

Create a Favorites area for contact lists

Experience a flawless calling process.
This long-distance calling application allows free connections between Skype users, however calls or text messages to conventional phone numbers (landlines and mobile phones) cost fees.
Skype is a fully-fledged remote communication and collaboration application that offers a variety of features and functionalities, including in-meeting chat, screen sharing, etc.
Talk360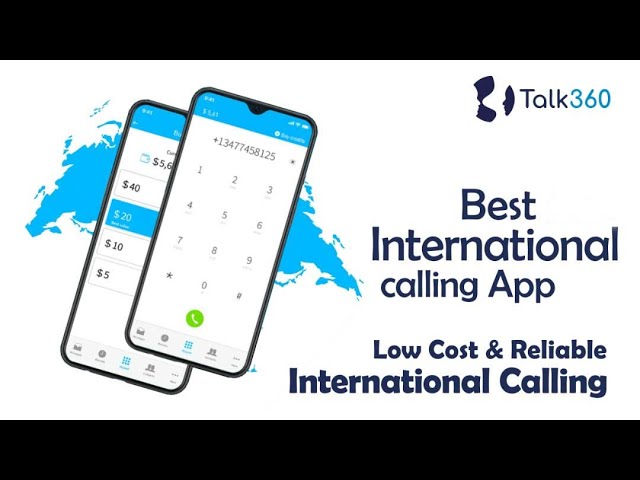 Talk360 is another international calling software utilized by more than one million users worldwide. This calling tool allows you to make inexpensive calls to both landline and mobile phones. You just need to install theTalk360 application.
Additionally, this international calling application enables you to:
Purchase calling credits at any moment without a contract.

The recipient of the transmission does not require internet access.

Without the need for a calling card, make international calls to almost 196 countries at a low cost.
Talk360 enables you to call your out-of-country friends, family, and business contacts at reasonable prices and with dependable connections. Additionally, you can effortlessly import your contacts into the application, and there are no hidden fees.
Additionally, you may select an automatic recharge function that prevents you from ever running out of calling credit. Overall, Talk360 is a functional and effective international calling service..
Viber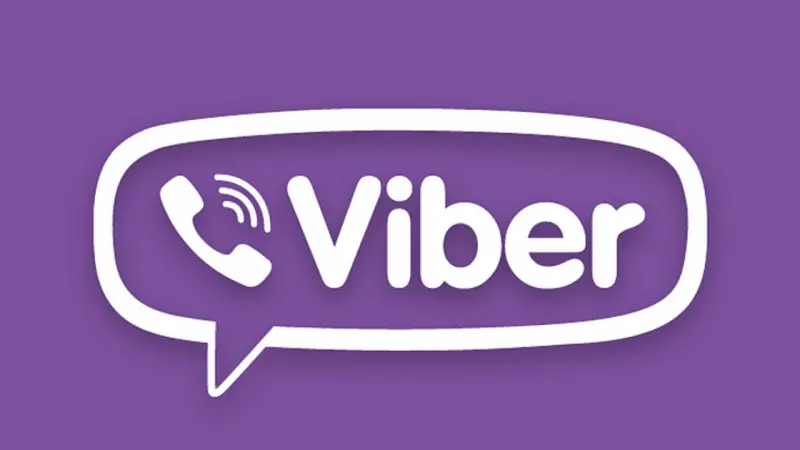 Viber is another program that allows customers to create inexpensive and free international calls via Wi-Fi to other app users. This free calling application features a smart function that searches your current contact list to identify folks who are also using the Viber app. It is accessible to users of Android, iOS, Blackberry, and Windows Phone.
Switching to a user-friendly program such as Viber for international calls allows you to enjoy extra:
Flexibility

Reduce call rates

Effortless use of diverse gadgets
Simply install the program, establish your unique contact list, and enjoy crystal-clear and rapid communications with family and friends throughout the globe.
Viber is a free international subscriber dialing (ISD) application that enables group messaging and voice calls (audio and video). You may conduct seamless group calls with up to 20 participants, regardless of their location.
Overall, Viber is a secure and popular program for international conversations that supports video/audio calls, self-destructing chats that offer an extra layer of protection, free calls for end-to-end Viber users, and affordable rates for Viber-out calls.
KeepCalling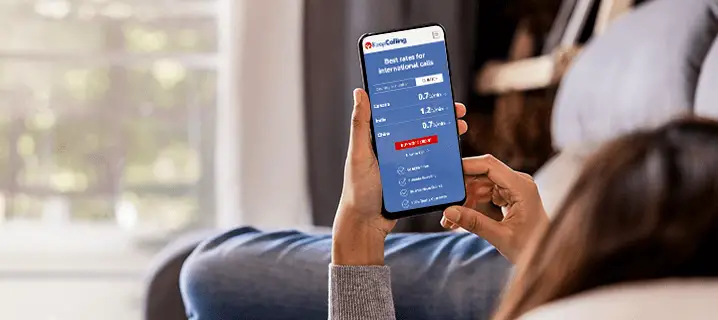 KeepCalling is an excellent international calling software that helps you save money on international phone calls. With this application, you can:
Make an inexpensive call

Send texts across the globe at reasonable prices

Voice over Internet Protocol (VoIP) calls are of superior quality.

Experience phone services that are simple to use.
Also with the platform's international calling software, you may get inexpensive prepaid credit and replace calling cards and phone cards.
With KeepCalling, you may also activate the offline calling option, which enables you to make calls using local numbers without cellular data/4G-LTE/3G. The app requires internet connectivity to connect to the application.
If you need to connect with any foreign number or contact, KeepCalling quickly supplies you with a local number that enables you to call relatives, friends, and others overseas.
From India, Mexico, Colombia, China, Thailand, Cuba, Nigeria, Saudi Arabia, and several other countries across the globe, KeepCalling enables you to make inexpensive international calls easily.
TextNow
TextNow is a phone and messaging software that provides access to free services in the United States and Canada. Voicemail boxes, group messaging, conference conferencing, and other capabilities are accessible on all Wi-Fi-enabled devices.
This free international calling application also gives a free phone number for internet calling and texting. You may also buy a suitable calling plan to use the application without a Wi-Fi connection. You must have an internet connection to access your app account and make international calls.
TextNow offers a SIM activation kit for consumers who want to use the Sprint network over local internet connections. If you really want a traditional phone experience with their services, the app also provides data plans and ad-free options.
Some nations supported by TextNow are also free, including Italy and Mexico. Even if you wish to make international calls to countries that are not eligible for free calling services, the charges are inexpensive and reasonably low, making it easy to contact your loved ones.
With TextNow, you have access to:
Caller ID function that identifies unknown numbers

Voicemail transcription feature

Call transfer

Stickers

Emojis

Personalized tones
All these functions are added to facilitate international calling and messaging as much as feasible.
---
If you like the content, we would appreciate your support by buying us a coffee. Thank you so much for your visit and support.