These days, most phone companies offer packages that let you make local calls for free, and they even come with unlimited minutes and bundled plans. However, things tend to get a little trickier when you're trying to call people who live overseas.
Thankfully, a wide range of telecom providers have stepped up to the plate and now offer free international calling to just about any country in the world, so you can keep in touch with your buddies and business partners no matter where they are.
Thanks to the latest technological advancements, there are now countless calling apps available that allow you to connect with people all over the world without breaking the bank. But with so many options out there, how can you know which ones are worth your time and money?
To help you make the right choice when it comes to choosing an international calling app, we've put together a list of the best programs that will let you easily connect with anyone in a foreign country.
Read: Best 14 teamviewer alternatives for Linux/Ubuntu
Can computers be used to make international calls?
There are a lot of international calling programs out there that let you make free calls to other countries from your computer. To use them, everyone on the call needs to have access to an internet-based app. But the good news is that you can still make free calls if you're using a smartphone to connect and the other person is on a computer.
Is a specific phone needed to make international calls?
You don't need a specific type of phone to make international calls – your current smartphone should work just fine. The only thing you need is an operating system that can run the necessary software. And if you're using a business phone and want some extra features, you'll need to use something called Voice over Internet Phone (VOIP).
Will you be able to make free calls To other phone numbers?
No. Actually, there are some international calling apps out there that will let you make free calls to other countries. Some of these apps might only give you a certain number of free minutes as a trial, and after that, you'll have to pay to keep using the service. But if you're calling someone else who has the same app as you, those calls are usually free – you just need a good internet connection to make sure the call quality is good.
Read: Making the Most of Microsoft Teams in Your Remote Work Environment
Yolla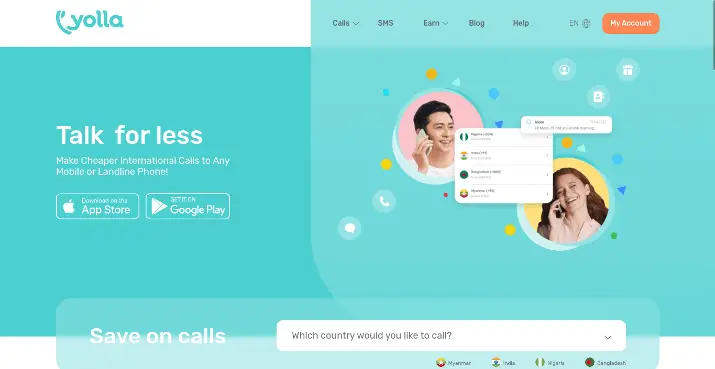 Yolla is a fantastic app that allows people to keep in touch with their loved ones living abroad while making low-cost international phone calls. The app works for both mobile and landline conversations, which helps save on roaming costs. The best part? You get low rates for high-quality international calls without any hidden fees or subscription costs.
Moreover, Yolla provides additional features like mobile top-ups and SMS across borders, and these features are not charged. With Yolla, you can make free audio and video calls and even send international airtime to anyone, regardless of whether they have a smartphone or internet connection. Yolla makes it easy for you to communicate with your loved ones without any added obligations. You can also buy and send Yolla credits to your friends and family members.
Read: Top 15 Apps And Services To Boost Your IQ
By using Yolla, you can enjoy free calls while chatting with other Yolla members and connecting with your private contact list. Automatic Yolla top-ups ensure that you never run out of credit, so you can always call your loved ones without worrying about the cost.
Rebtel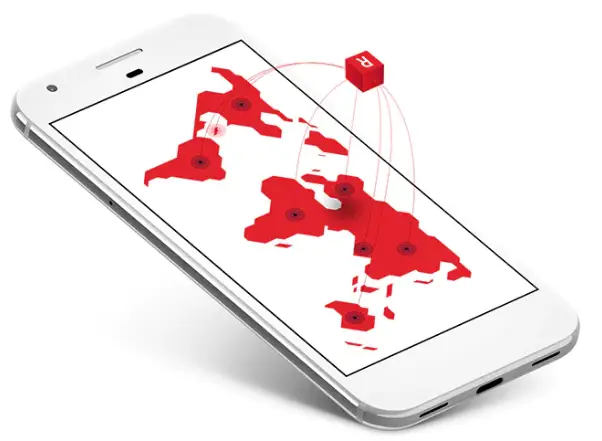 If you're searching for a reliable app to make international calls, you might want to check out Rebtel. This app offers a wide range of features that include:
Making and receiving calls to mobile and landline phones for business purposes

Connecting with individuals in over 50 countries

No cellular data is necessary for calls, but internet access is needed to log in to the app

Using your Rebtel local call number
Rebtel's calling services can be used by people from the 53 countries mentioned, provided they have a stable Wi-Fi connection or cellular data. This app ensures that you have a great customer experience with its mobile routing technologies and local landline.
Rebtel is a trustworthy app for international calls that charges you based on your local number prices and not cross-country fees. Moreover, the app enables US-based users to make free domestic calls to anyone in the US.
Read: How to install Zoom Video Conferencing app on Ubuntu 20.04
Skype

Skype is a highly advanced application for international calling that is great for both personal and business use. This global calling software is ideal for scheduling meetings and conferences, and its unique feature is its ability to capture video and audio.
Most people use Skype for phone calls and video chats, which can be done on tablets, laptops, and mobile devices. It is compatible with all Apple, Windows, and Android smartphones. However, there are certain restrictions on free calls with Skype.
With Skype, you can do the following:
Check if your contacts are available on the platform.

Add people to your phonebook.

Create a list of favorite contacts.

Experience seamless calling.
While Skype allows free calls between Skype users, calls or text messages to regular phone numbers (both mobile and landline) come at a cost.
Skype international phone app is a fully equipped application for remote communication and collaboration. It includes a range of features such as in-meeting chat and screen sharing, making it an excellent option for online meetings and remote work.
Read: How to Install Microsoft Teams on Ubuntu 22.04
Google Voice
Google Voice is a free phone service that lets you make and receive calls, send text messages, and access voicemail from anywhere in the world. You can use Google Voice on your smartphone, computer, or compatible desk phone, and sync your conversations across all your devices. Google Voice also uses artificial intelligence to block spam calls and transcribe your voicemails to text.
You can integrate Google Voice with other Google products, such as Google Meet and Google Calendar, to enhance your communication and productivity. To use Google Voice, you need a Google account and a phone number that you can port or choose from the available options. You can also make international calls with Google Voice by adding credits to your account and paying low rates to over 150 countries. Find out more about Google Voice international calls and how to get started here.
Talk360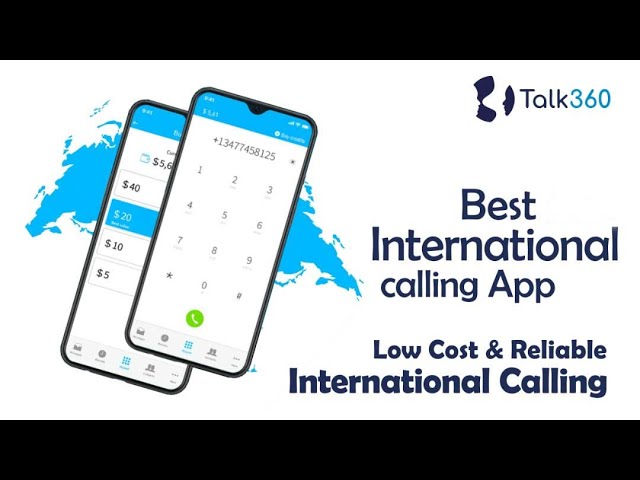 Talk360 is an international calling software that has over a million users worldwide. It allows you to make cheap calls to both mobile and landline phones by simply installing the application. You can also buy calling credits whenever you need to, without any contracts.
With Talk360, you can:
Make international calls to almost 196 countries at an affordable rate, without needing a calling card.

Call your friends, family, and business contacts who are out of the country at reasonable prices, with reliable connections.

Import your contacts effortlessly into the application, with no hidden fees.
Furthermore, Talk360 offers an automatic recharge function that ensures you never run out of calling credit. It is a reliable and efficient international calling service that can be accessed from anywhere in the world.
Read: How to install TeamViewer on Linux
Viber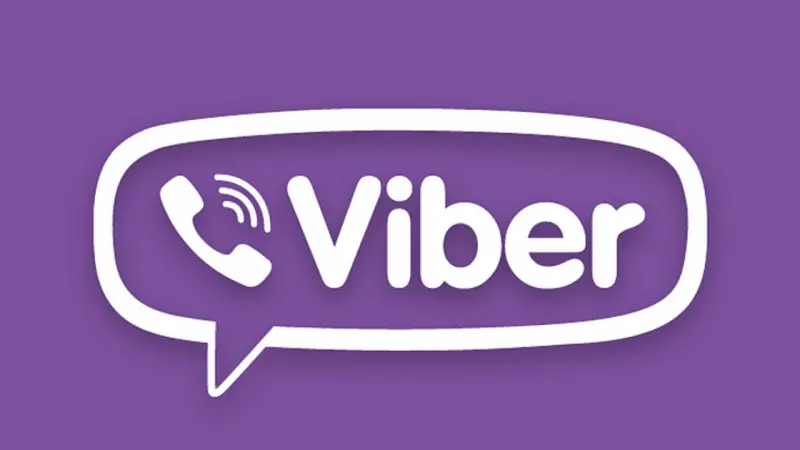 Viber, one of the most used long-distance phone apps,  is a program that lets you make cheap or free international calls using Wi-Fi to other users of the app. This long-distance calling app is equipped with a clever feature that scans your contact list to find individuals who are also using Viber. This free international calling app for android works also with iOS, Blackberry and Windows Phone.
By switching to a user-friendly program like Viber for international calls, you can enjoy the following benefits:
More flexibility

Lower call rates

Effortless use across various devices

Free overseas calls between Viber users

Make Viber international calls for conferences 
To get started, simply download the program, create your contact list, and start communicating with your loved ones around the world with crystal-clear and fast connections.
Viber is an ISD application that is completely free and enables you to make group voice and video calls. You can easily conduct group calls with up to 20 people, regardless of where they are in the world.
Overall, Viber is a secure and popular program for international conversations that offers features such as self-destructing chats for an extra layer of security, affordable rates for Viber-out calls, and free calls for end-to-end Viber users.
KeepCalling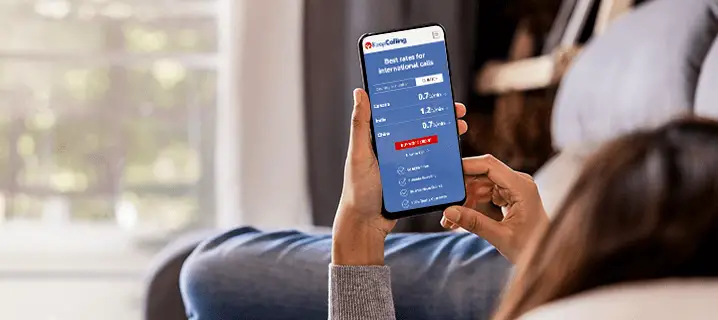 KeepCalling is a fantastic application that can help you save money on international phone calls. This international calling software lets you make inexpensive calls, send texts worldwide at reasonable prices, and enjoy high-quality Voice over Internet Protocol (VoIP) calls. It's also incredibly easy to use.
One of the best things about KeepCalling is the ability to get inexpensive prepaid credit without having to rely on calling cards or phone cards. You can also activate the offline calling option, which lets you make calls using local numbers without requiring cellular data or an internet connection.
If you need to reach someone in another country, KeepCalling quickly provides you with a local number that enables you to call your relatives, friends, and other contacts overseas. With KeepCalling, you can easily make inexpensive international calls from Mexico, Thailand,  Colombia, China, Saudi Arabia, Cuba, India,  Nigeria,  and many other countries around the world.
TextNow
TextNow is a phone and messaging app that offers free services in the United States and Canada, including voicemail boxes, conference calling, and group messaging on Wi-Fi enabled devices. This free app also provides a phone number for internet calling and texting, and you can purchase a calling plan if you want to use it without Wi-Fi. To make international calls, you need an internet connection and an account with the app.
TextNow offers a SIM activation kit for those who prefer using the Sprint network over local internet connections. For a traditional phone experience, the app provides data plans and ad-free options.
In some countries, including Italy and Mexico, TextNow offers free calling services. For countries not eligible for free calling, the charges are low and affordable, making it easy to stay in touch with your loved ones abroad.
With TextNow, you can take advantage of features like caller ID, voicemail transcription, call transfer, stickers, emojis, and personalized ringtones, all designed to make international calling and messaging easier and more enjoyable.
---
If you like the content, we would appreciate your support by buying us a coffee. Thank you so much for your visit and support.