Marketing is necessary for growing your company in the modern, highly competitive marketplace. It helps enhance the visibility of your brand. This lets more clients know that your company exists. And for that reason, they can purchase products or services from you.
There are two major types of marketing. That's inbound and outbound marketing. However, this article concentrates on outbound marketing. It overviews outbound marketing, selecting the right software, and much more. Read on to get enlightened.
Read: How Digital Marketers Can Take Advantage of a VPN Service 
An Overview Of Outbound Marketing
You might think outbound marketing is an old version of promoting a business and has no place in the modern world. But that isn't true. If fact, it has continued to gain popularity in the past few years. And all signs indicate that businesses will continue promoting their companies using this kind of marketing for the foreseeable future. You also need to follow suit to connect with customers.

That said, outbound marketing is the opposite of inbound marketing. It's a practice of sending messages to potential customers instead of waiting for them to approach you.
In other words, outbound marketing is a form of advertising in which business owners or marketers initiate conversations with potential clients. For example, outbound marketing strategies include cold emailing, cold calling, social media ads, content syndication, pay-per-click advertising, etc.
Read: How to Create a Digital Marketing Strategy That Will Generate the Most ROI
That said, sending messages to customers in outbound marketing can be time-consuming. This is true, especially when dealing with a large audience. But the good news is that you can purchase an Auto Dialer tool to simplify the process. This tool lets you contact more clients per hour, thus saving time. However, you must utilize suitable software.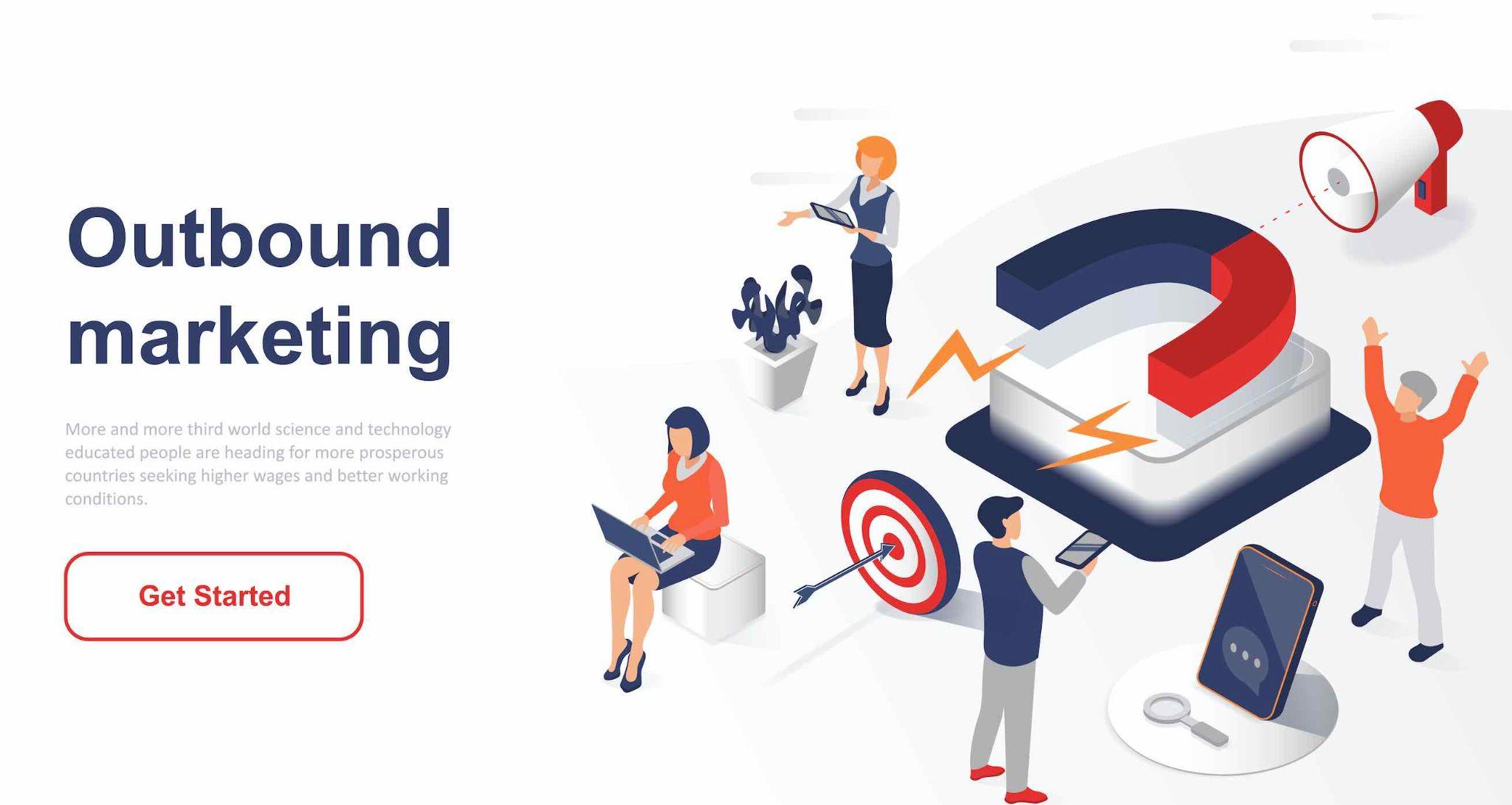 Finding The Right Software For Your Outbound Marketing Campaign
Outbound marketing is an effective way of enhancing the visibility of your company. It enables you to reach potential customers who haven't yet shown interest in your business.
However, by initiating contact, such customers can purchase products or services from your company. Therefore, you should invest in outbound marketing to boost your market reach and make significant revenue and profits. But you must utilize the right software.
Read: 5 Important Tools You Need to Know That Can Help You in Digital Marketing
While that's the case, selecting the right outbound marketing software isn't always a walk in the park. Several types of these tools are on the market. And if you aren't careful, you can pick the wrong software, which may add no value to your marketing efforts. Instead, strive to find the most suitable tool.
You can implement various strategies to select the right software for your outbound marketing campaign. They include the following:
Working With A Reputable Vendor
Working with a reputable vendor is perhaps one of the most effective ways to ensure you pick the right outbound marketing software. Unfortunately, you can't expect to get a good tool from a company with a bad reputation. Therefore, you should first consider the importance of a particular vendor before signing any contract with them.
You'd want to consider the reputation of the vendor for various reasons. The first one is to help find software with good quality.
A vendor with a good reputation will likely provide high-quality software for your outbound marketing campaign. However, you must visit their website to see how other clients comment about the quality of their software.
You may also consider reputation to ensure you work with a genuine software vendor. That's important, especially in the modern digital era where scamming activities are rising.
Read: How to do Digital Marketing
Some companies claiming to offer outbound software marketing services are scammers looking for ways to steal information and money from clients. You can lose money if you engage with such firms. And if they sell software, they'll likely have substandard tools.
The only way to identify scammers is by determining their reputation. Ensure you work with a vendor with an established positive reputation. For example, if you're looking for a company to source software for your outbound marketing campaign, you can consider Drop Cowboy or any other similar platform.
Finding Compatible Software
The various kinds of outbound marketing software are made differently. Some are compatible while others aren't. So, it'd be a good idea to find compatible software.
For instance, you should find an outbound marketing tool compatible with your computers. This helps promote the efficiency of your operations.
Apart from computers, the selected software should be compatible with other applications on your business systems. Therefore, your outbound marketing tool should work harmoniously with other automated business systems.
One of the primary reasons you'd want to purchase a compatible outbound marketing tool is to help save money. It ensures you're not replacing other existing applications to accommodate the purchased tool. This goes along easy in boosting your business finances and profits. Before buying the preferred software for your outbound marketing campaign, ensure it'll be compatible with your computers and other business programs.
Read: The Future of Incident Management is Automation
Choosing A Scalable Tool
Today you might be running a small business. This means you're reaching a few customers through your outbound marketing activities. However, your business will grow after a few weeks or months, thus targeting a larger audience.
Buying non-scalable software for your outbound marketing campaign can cost you a lot of money in the long run. This is true since you'll be forced to spend a lot of money to replace your current tool to accommodate the growth of your business. As a result, your company profits will be reduced drastically. So, you need to pick scalable outbound marketing software.
A scalable outbound marketing tool will need no replacement. Instead, it'll support your business today and even in the future. In simple terms, a scalable tool can accommodate an unlimited number of customers. Therefore, you should find scalable software to promote your profits and grow your firm within no time.
Picking Easy-To-Use Software
You might think that the various types of outbound marketing software are made equal. But that isn't the case. They differ in complexity. Some are simple, while others are difficult to use.
One of the reasons you'd want to install outbound marketing software is to simplify your advertising activities. For that reason, choosing easy-to-use software would be a good idea.
Read: 5 Productivity Apps For Mobile Professionals
There are many advantages of picking an easy-to-operate outbound marketing tool, for instance, it helps save time.
Difficult-to-operate software may require you to spend several hours or days educating your marketing team on how to use it. This leads to a waste of time.
On the other hand, you can save a lot of time by purchasing an easy-to-use system. You'll only spend a few minutes introducing your employees to the software. This also helps enhance your business productivity. As a result, you'll generate more sales.
Besides saving time and increasing productivity, choosing simple outbound marketing software helps reduce costs. It eliminates the need to hire professional software trainers.
Note that hiring experts to educate you and your team means paying them professional fees. This attracts extra costs which reduce your company profits.
On the other hand, you don't need experts to show you how to use a simple outbound marketing software. You only need to use the guide manual provided to get started. This enables you to save money for the growth of your firm.
Selecting A Tool With Adequate Security Features
You must invest in cybersecurity if you want to grow a successful business. It helps handle online attacks more efficiently to ensure you don't lose business data and money.
Read: 6 Cybersecurity Strategies for Handling Fraud and Data Breaches in Business
Using software for your outbound marketing campaign helps streamline your advertising efforts. However, it can expose you to online threats. This is true since hackers use the same software to access your business information. And when that happens, you can lose control of your company.
Besides, marketing involves collecting customers' data and using it to make strategic decisions. Therefore, online attacks expose clients' data to online attacks. And for that reason, you can face a lot of lawsuits for exposing customers' data to third parties. Therefore, you must invest in outbound marketing software with good security features. Finally, it'll help secure your company's information and customers' details against online thieves.
There are various features of secure outbound marketing software, including password protection, consistent backup, data encryption, spyware detection, authentication, firewalls, etc.
Choosing Software With Reasonable Pricing
Most business owners get it wrong when pricing and picking the right outbound marketing software. And some end up picking the software with the lowest price in the market.
Indeed, picking software with the lowest price helps you save money. However, it may have long adverse effects on your company.
Some low-priced outbound marketing software might be of poor quality. However, you won't get better returns on your marketing investment if you utilize such a tool.
Read: Best Employee Monitoring Software in 2022
You must also note that high pricing doesn't always reflect good quality. For example, some software service providers will attach high pricing on their products to make clients believe they're of the highest quality, which isn't true.
Therefore, compare quality and pricing to ensure you find the right outbound marketing software. Make sure you find a high-quality tool at reasonable pricing.
Benefits Of Outbound Marketing
There are several benefits of investing in outbound marketing. These include:
Exposure To New Customers
You can work hard to retain existing customers. However, you shouldn't forget about gaining new ones. Acquiring new customers shows that your company is growing. For that reason, consider finding effective ways of reaching new customers. That's where outbound marketing comes in.
Outbound marketing enables you to expose your business to new audiences. This means you'll reach customers with whom you may not have connected via inbound marketing. This exposes your products or services to new customers. As a result, you'll likely enhance your business client base.
Read: Creative Marketing Ideas to Attract Customers
Enhance Prospecting
To find better prospects, you must invest in outbound marketing. Outbound marketing first involves researching online to know your target customers and what they want. As a result, you'll better understand them before creating your marketing messages. And for that reason, you'll likely develop personalized pitches to enhance your prospecting. This helps generate more qualified leads.
Establish Business Presence
You might offer high-quality products or services to customers. However, that might not add value if you don't establish your brand's presence.
Without a presence, customers won't know whether your company exists. Therefore, you won't sell your products or services. It's therefore essential to establish a brand's presence.
You can do various things to establish your business presence. For example, one of them is investing in outbound marketing.
With outbound marketing, you can reach more new customers, helping establish brand presence and build authority in the market. As a result, your business will gain a competitive edge.
Read: 10 Reasons Why an Ecommerce Website is Important for Your Business
Increase Sales
Sales forms an integral part of your business. It allows you to settle operating costs and make profits. Your company can't exist without generating sales. Find effective ways of increasing your company's sales. That's where the power of outbound marketing comes in.
As noted earlier, outbound marketing involves sending messages to potential customers. This enables you to generate more qualified leads that may convert to customers. For that reason, you'll likely make more sales.
Boost Conversion
You may invest a lot of money in marketing. However, your company might not grow if the people you reach aren't going to convert.
Conversion is the ability of your target audiences to take your desired actions. These could be subscribing to your weekly newsletter, visiting your online store, watching your videos, commenting on your online posts, and even buying from you.
A high rate of conversion shows that your marketing efforts bear good fruits. For that reason, you may consider finding effective ways of enhancing your conversions. And one of them is outbound marketing.
Outbound marketing involves reaching out to people who are interested in your business. Therefore, they'll likely take any action you request them. This goes a long way in enhancing your business conversion.
Read: 7 Google Ranking Factors you must know
Takeaway
Investing in outbound marketing is how to help your business stand out in the sea. It involves sending out messages to potential customers instead of waiting for them to come to you. This helps gain more customers, thus enhancing sales.
Installing software is the best way to achieve better results with outbound marketing. However, you must use the right software for your outbound marketing campaign. You can consider the strategies detailed in this article to help find the right tool for your company.
---
If you like the content, we would appreciate your support by buying us a coffee. Thank you so much for your visit and support.